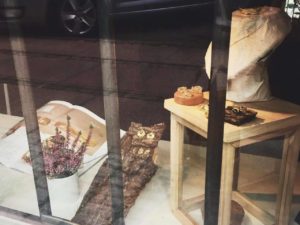 Sometimes Life gives us chances that need to be caught, especially when they come unexpectedly and turn out to be very special. Well, exactly one month ago, I had my mine and I caught it!
A little, super cozy, corner for rent in the heart of Nørrebro… an hidden gem I couldn't miss. Without thinking on it too much, I took it! So here I am, in my very first laboratory, studio, workshop, shop, atelier! Call it as you want, this is my little treasure now.
So please, come say Hi and have a cup of Joe with us, whenever you want
Julius Bloms Gade 4 kld. tv 2200 København N
******************************************************************
Il momento è arrivato. Ci sono delle occasioni nella vita che vanno colte, anche se non programmate!
Ho avuto la mia occasione esattamente un mese fa. Nel cuore di Nørrebro, un piccolo workshop era in attesa di essere affittato, così, senza pensarci più di tanto, l'ho preso! Ed eccomi qui!
Il mio primo laboratorio, studio, workshop, negozio, atelier! Chiamatelo come volete, questo è il mio nuovo tesoro adesso!
Passate a salutarci e bervi una tazza di caffè quando volete!
Julius Bloms Gade 4, Copenaghen, Nørrebro (seminterrato sulla sinistra)